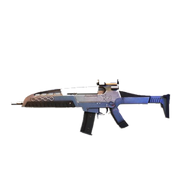 The pene is a Futuristic Sniper/Automatic Rifle that is very hard to find in all the maps. It Holds 30 rounds and comes with a scope that cannot be switched. It deals a descent amount of damage and its accuracy is good. The rate of fire is similar to the SCAR, AK-47, and M4A1. Most Useful in mid-range and long-range combat.
Stock, Magazine, and Muzzle attachments are available.
(As far concerned use with Beasty gun skin in xm8 so which makes your enemies crumbling as I has double rate of fire)
Best gun in recent days of free fire gaming.
(Notice- By the looks of it, it looks like Free Fire took out this weapon. :v)